I would love to say that my review of I'm Thinking of Ending Things, Charlie Kaufman's latest, is so late because I've only just now figured the film out. This would be a lie for two reasons- one is that the reason I haven't had time to write it is due to the return of school and all that brings. The other is that it implies I've figured it out at all. The latest directorial effort from the writer of Being John Malkovich and Eternal Sunshine of the Spotless Mind hit Netflix earlier this month, after months of silence from the streaming giant on a movie initially supposed to hit in early 2020, and the announcement of a release date immediately stirred fans of Kaufman's particular brand of surrealism into a frenzy. Counting myself as one of those fans, I can assure you that the phrase "Charlie Kaufman does a psychological horror movie" is extraordinarily exciting. Kaufman is one of our greatest cinematic weirdos, and his totally singular view of the human psyche seemed like a natural fit for the psychological horror genre.
It was. Of course, it's not exactly that simple. I'm Thinking of Ending Things is a horror film much in the same way Lynch's Eraserhead is: it's not exactly tangibly "scary" per se, but it's so deeply wrong and upsetting that any other characterization would feel ill-fitting. Based on Iain Reid's book of the same name, I'm Thinking of Ending Things delves into the mind of a woman (Jessie Buckley) who is dissatisfied in her relationship with Jake (Jesse Plemons) and is, uh, considering ceasing the relationship. The film concerns a road trip the two take to meet Jake's parents (masterful lunatic actors Toni Collette and David Thewlis, perfectly cast). To describe the plot as it proceeds from here would be both useless and impossible, so let's just skip that and talk about what the thing feels like to watch. Cinematographer Lukasz Zal (noted for his Oscar nominated collaborations with Pawel Pawlikowski, Ida and Cold War) bathes the film in snow and wintry aesthetics, and the vibe of the film is decidedly a wintry one. It is, no two ways about it, a dark movie- it quickly becomes clear that it possesses a fascination with aging and death, and the coldness throughout it really perpetuates this. Those seeking the humor of something like Being John Malkovich are out of luck with this one. But Kaufman obsessives will absolutely find plenty to love here- the best way I can put it is that if you haven't already seen it while you're reading this, it may not be for you. Personally, I marked September 4th on my phone calendar and watched the movie as soon as I woke up. If you felt a similar anticipation, then you'd probably love the film. If not, either stay away or immerse yourself into Kaufman's films a bit first.
If you are, in fact, in this for the standard Kaufman oddities, Thinking of Ending Things has you covered. The central performance by Buckley is the obvious standout, a titanic feat of repressed melancholia by which the film lives and dies. When she's not on screen, the film is worse off for it. But in terms of purely entertaining bizarro stuff, I have to direct you in the direction of Thewlis and Collette's aforementioned gonzo turns. They play Jake's parents throughout the duration of a mammoth dinner scene in the center of the film. I mentioned Eraserhead earlier as a tonal comparison, and this is where it really conjures up that film, specifically its early dinner sequence. No manmade chickens in this one, but you get that same deranged vibe from the parents. Collette and Thewlis sell it beautifully, alternating between unnerving and deeply sad. In the home stretch, Kaufman goes full-tilt crazy, descending the film into a disorienting array of farm animals and naked old people that can only be described as "day-ruining". This is stuff that stays with you, and in the kind of way where you know it's going to as soon as you see it.
So what does it all mean? Like I said earlier, I can't claim to know. It's as if it's designed to be as impenetrable as possible, every potential revealing plot development overshadowed by misdirection and cascading cultural references. Everything is layered on top of everything else, conversations debating the ethics of "Baby it's cold outside" collide with fake ice cream jingles before you can even recover from bizarre jabs at Robert Zemeckis. It gets to the point where it's impossible to distinguish what's important and the answer ends up seeming like "everything and nothing".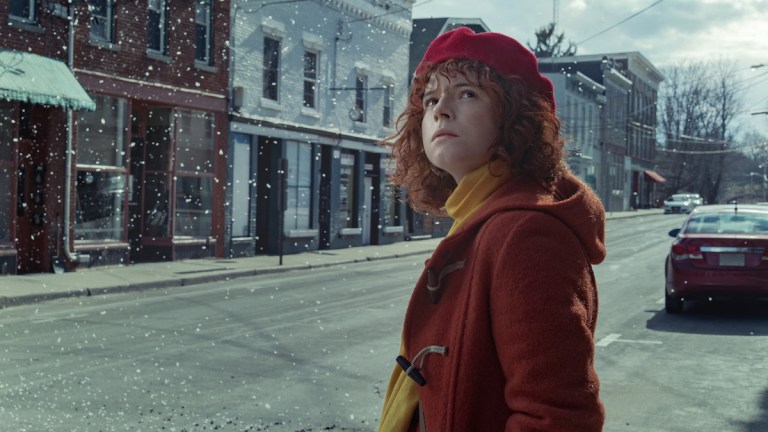 Where I've arrived is the idea that trying to figure it out is pointless. With I'm Thinking of Ending Things, the best way to go is to let it wash over you, to commit to the feeling of the film above all else. And that feeling is the film's best asset. It makes you feel so uneasy yet so satisfied, so shaken yet so mystified and compelled. There's not much like it. It's a masterpiece, something so remarkable to watch that I feel bad to encourage people not to watch it. But unfortunately that's what I have to do- this is decidedly not for everyone, and one of the biggest senses I got while watching it was that people would watch it just because it's on Netflix and absolutely hate it. But for a certain type of viewer, I'm Thinking of Ending Things will resonate. If you think, based on all this, that you might be that, you probably are, and in that case, go check out one of the most beguiling and indelible films in recent memory. If not, you're probably making a good call. Either way, one thing is for sure about I'm Thinking of Ending Things: it's a real movie that actually exists. That's about it.
Rating: 4.5/5