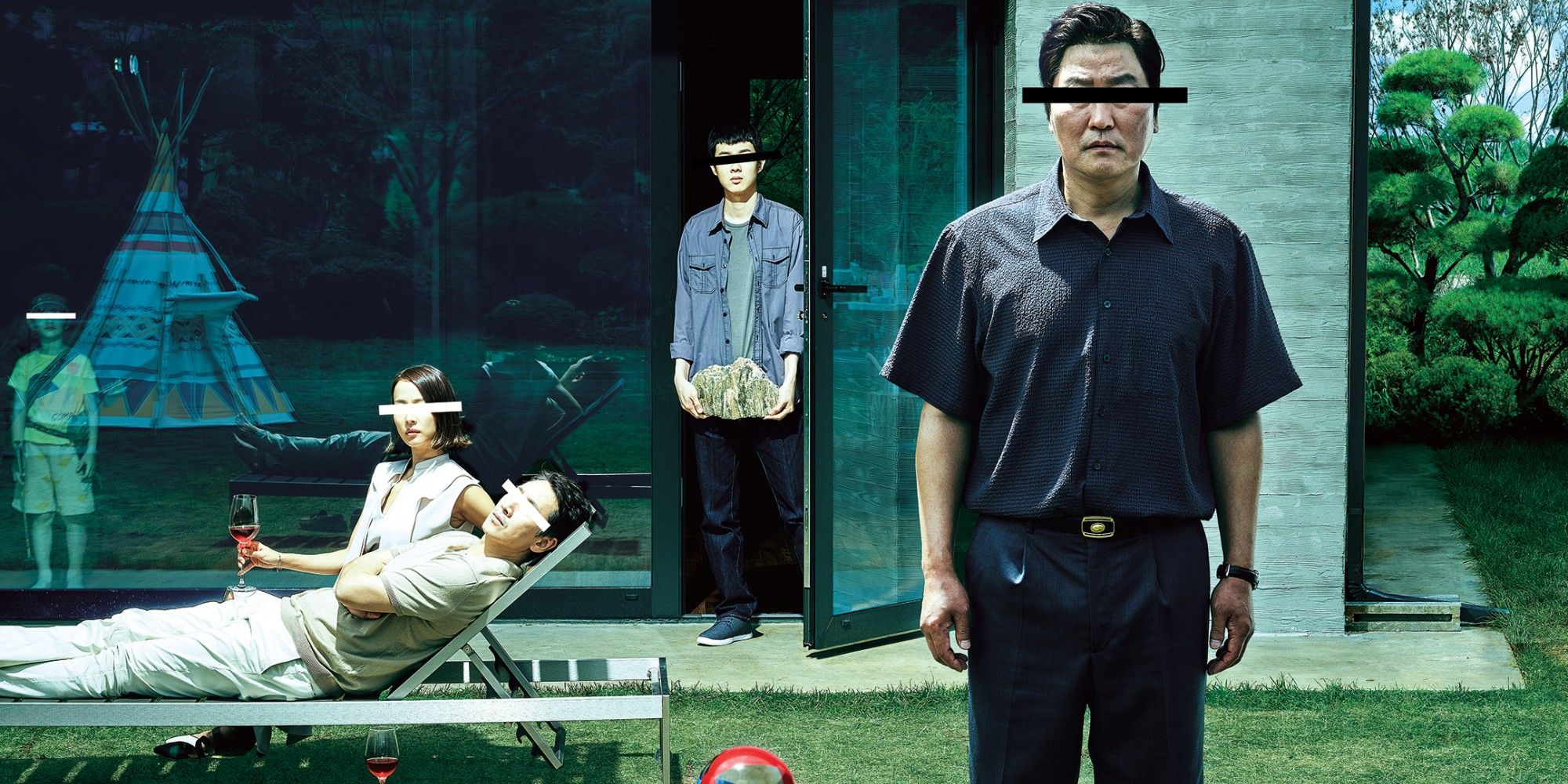 It has been four days since I finally saw Bong Joon-Ho's Palme D'Or winner Parasite, and I haven't been able to get it out of my head. Additionally, I haven't been able to figure out how to review it. Everything you may have heard is true, both about the quality of the film (it's a straight-up masterpiece) and the correct way to approach it: I managed to duck almost any information about the plot in the months before I could see it and my experience benefitted greatly. So, in the interest of preventing anyone receiving any knowledge, whether they don't want to or think they want to know, I will not be discussing the plot of the film in this review. Which is problem number one in how to review it.
Problem number two is that I'm not sure how to properly extol the virtues of this generational work of art without going into spoiler territory (and pretty much anything is a spoiler, so that's easy to do). Since at this point it probably isn't hard to figure out, and since this is an oddly-structured review, I'm gonna go ahead and commence with the rating, which is usually at the bottom:
Rating: 5/5. No, wait, 6/5. Is that illegal? It's my blog and my review, I am the law and can do as I please. Yeah, but it feels wrong. 5/5, but I'd go higher if I could.
With that out of the way, I would like to go further into what I touched on earlier: it is extremely important knowing that you see this film knowing as little about it as possible. Don't watch any trailers, don't read any plot summaries or outlines, nada. Here is some stuff that is perfectly harmless to know, in FAQ/Q&A form:
Who directed it?

Bong Joon-Ho, the South Korean auteur best known previously for such films as Memories of Murder, The Host, Okja, and Snowpiercer (I did not care for Snowpiercer, although I may have to rewatch it, so if you didn't like that one, don't worry).

What is it about?
What are its awards prospects?

If we lived in a kind and just world, it would be the heavy favorite for every Oscar category, up to and including best animated short, for which it does not qualify. However, since the world is cruel and unfair and freaking Green Book won the whole thing last year, this is destined to get nominated for a bunch of stuff like Roma did last year and then get screwed by something inferior, like Roma did last year.

Who's in it?

The standout and would-be (in a perfect world) best actor nominee is Song Kang-Ho, a Bong regular who has appeared in The Host, Memories of Murder, and Snowpiercer. The cast is outstanding all around, with especially noteworthy turns from Cho Yeo-Jong, Park So-Dam, Choi Woo-Shik, and Lee Sun Gyun.

Is it actually as good as you've made it out to be?
Well, what makes it so good?

The aforementioned acting, the cinematography is excellent, impeccable set design, brilliant storytelling, powerful social commentary, and pretty much everything about it.

Is it still good if you don't like movies with subtitles?

If you can't watch foreign movies because of the subtitles, you make me sad. But also, I assume, yes. It's become enough of a success domestically that it has expanded to a wide release from its original release in a handful of theaters. Also, it rules. It would probably still rule if you couldn't understand a word anyone was saying. And it rules more than anything you've seen in a while because you can. This is a film that should absolutely be accessible to an audience that doesn't typically watch foreign films. It's not slow or dense or anything that comes with the foreign-language stigma that The Seventh Seal has left the American moviegoer with for decades. Parasite will, along with the success of Roma, be looked back on as a seminal moment in American acceptance of international film, hopefully because it does what Roma didn't and become the first foreign language film to win best picture. It's the clear best film of the year in a fantastic year, loaded with brilliant work such as The Irishman, Once Upon a Time in Hollywood, Pain and Glory, Us, and more. You will regret missing this.

Is it metaphorical?

So metaphorical. (If nothing else has convinced you, see the movie and you can get the joke.)
Alright. I feel my point has been made. Review over. Hopefully the next movie I review (likely The Lighthouse or Marriage Story depending on when I can get to the former) I can do in a more traditional way, although if it manages to be as good as Parasite, I can't complain.